Blair Pathways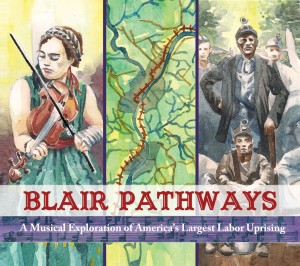 Blair Pathways: A Musical Exploration of America's Largest Labor Uprising
is a multi-media project, which tells the story of the West Virginia Mine Wars through historic music covered by contemporary artists. In 2011, Saro and co-producer Jordan Freeman were compelled to create a project that would help to educate about a part of America's long-neglected labor history- the West Virginia Coal Mine Wars (1902-1921). These wars were a series of labor battles for better pay and conditions, culminating in the Battle of Blair Mountain- a week-long uprising involving over 10,000 men and women. Saro was particularly motivated because Blair Mountain was (and continues to be)  threatened by mountaintop removal mining- and she wanted more people to know about Blair's critical role in America's history.
From 2011 to 2012, Saro and Jordan produced a CD called Blair Pathways. Saro researched and selected historic pieces and coordinated with over 25 artists to have contemporary covers of these songs produced. Along with the CD, Saro illustrated a historic map to coordinate with CD track numbers, and wrote a 100-page narrative to accompany the compilation. She also created an archive of contemporary music about Blair Mountain and the Mine Wars, accessible on the Blair Pathways website.
Explore Blair Pathways at
BlairPathways.com
and enjoy the song "Law In the West Virginia Hills" below. More samples on the website.
Praise for Blair Pathways:
"This is the best compilation CD I've heard in years.  What a fantastic collection of songs and instrumentals that powerfully evoke the epic conflict in the West Virginia mines as well as the rich cultural traditions of Appalachian music.  The CD is one that any lover of Appalachian music and history will cherish for a long time.  And check out the website — the interactive map is brilliant, and it's full of information on the contemporary struggle to save historic Blair Mountain."  –
David Rovics, singer-songwriter