Asheville Community Sing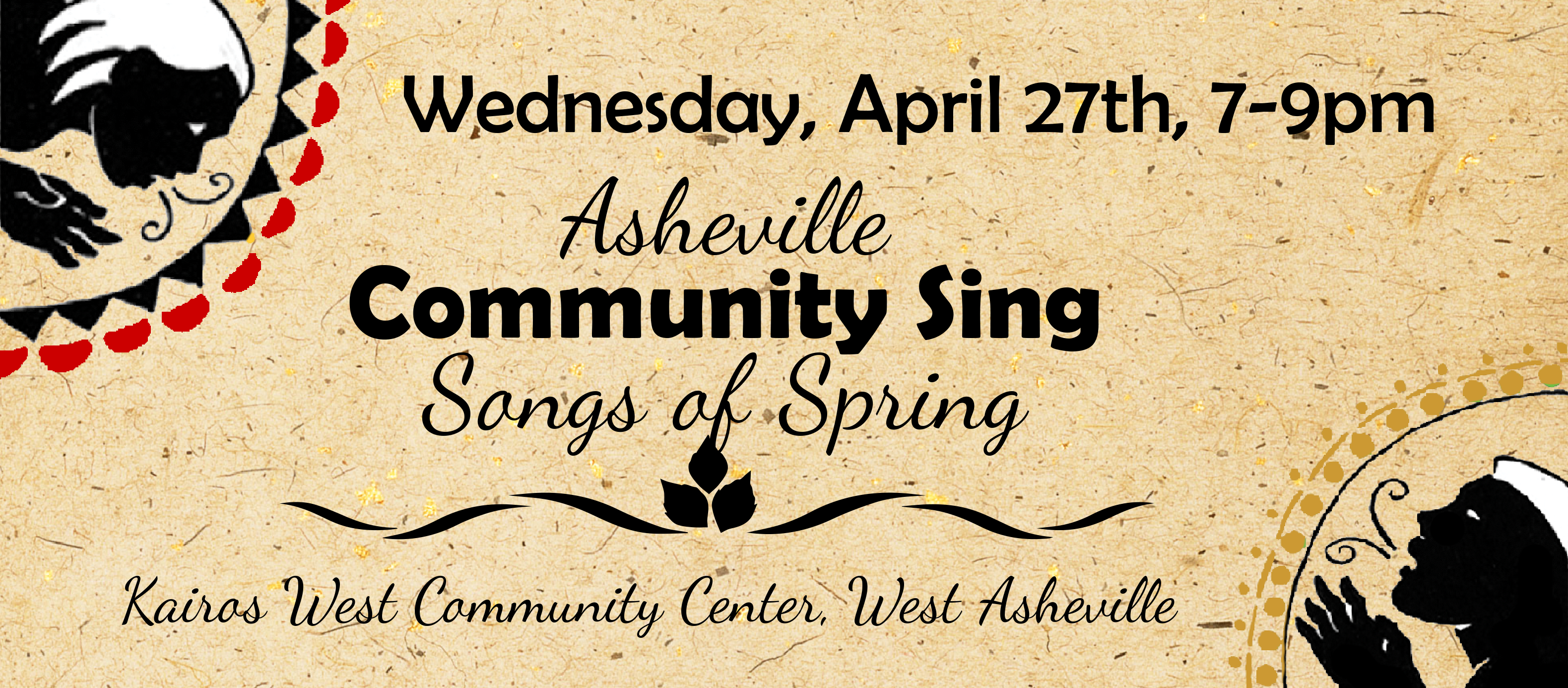 Our 2016 Dates are Set! The dates for the rest of the year are:
All Wednesdays 
7:00pm-9:00pm 
Kairos West Community Center, 742 Haywood Rd.
April 27th
May 25th
June 29th
July 27th
August 31st
September 14th
October 26th
November 30th
Kairos West Community Center
742 Haywood Rd. in West Asheville
(Across from the ISIS Theater)
No Cost, but food and drink are always a plus at the sings!
Join our mailing list to get updates! Contact Saro at [email protected] and tell her you'd like to be added to the listserv!
Background
Starting in 2010, Saro has run the Asheville Community Sing. The Sing is all about bringing  the power of song to anyone and everyone. Using only our voices, we teach and learn from many traditions including gospel, Appalachian folk songs, American hymnody, English traditionals, African-American church musics, sea shanties and more.
Wassailing
Every winter, Asheville Community Singers participate in winter Wassailing. Wassailing is an ancient precursor to modern caroling. In medieval Europe, peasants would go door-to-door at the houses of nobles and ask for food and drink in exchange for ritualized song and symbolic plays. Wassailing more specifically refers to south English traditions, which involved the drinking of hot mulled cider, the thanking of trees for their apple harvest, and singing door-to-door.
Over several December practices, the Asheville Wassailers learn a repertoire of traditional seasonal songs. Examples include "Pleased to See the King" a St.Stephen's Day song from south Wales, "The Boar's Head Carol" a medieval melody, "Star in the East" a shape-note song from the Christian Harmony Hymnal and "Apple Tree Wassail," an English song thanking the trees for their harvest.
The Wassailers visit door-to-door in Asheville neighborhoods the weekend before Christmas, host a Wassailing party, and engage in other seasonal events. They never fail to procure wine, food and tips for their endeavors!
Contact Saro for more information!