The Mine Wars Show
Stories and Songs of the West Virginia Mine Wars is a one-person, multimedia show about the Appalachian Coal Wars, mountaintop removal, and the Battle for Blair Mountain. The show runs 45 minutes long, and encapsulates the exciting history of over 20 years of battles for union and miners' rights in the West Virginia coal fields. These struggles included the week-long Battle of Blair Mountain- the largest uprising in U.S. history since the Civil War. Saro uses image, storytelling and song to convey these pivotal moments in America's history.
Praise from Chris Green, Director of the Loyal Jones Appalachian Center at Berea College, KY: "Saro's mix of song, vivid narration, cutting dulcimer, and back-dropped images carries her audience into the tumult, hope, and struggle of miners and their families as they fought coal companies for fair labor practices and just wages."
This show was borne out of personal research conducted in state, regional and national archives on the music and memories of the people who lived through the Coal Wars. This research was also the basis for Blair Pathways: A Musical Exploration of America's Largest Labor Uprising, a self-published CD involving contributions from over 20 musicians which has received acclaim from independent artists and ethnomusicologists. With Stories and Songs of the West Virginia Mine Wars, Saro uses music from this CD, stories from her research, and over 150 historic photographs to dynamically review West Virginia's mine wars from 1900 thru 1921.  She ends the presentation with a look at current efforts to save Blair Mountain, West Virginia, which is currently in danger of being destroyed through mountaintop removal mining.
If you're interested in bringing the show to your community or school, please contact Saro via the Contact Form.
More facts about the show:
Length: 50 minutes plus 15 minutes for Q & A?
Media: Voice, Mountain dulcimer, Slideshow
Media Requirements: Projector and Screen, Microphones and amplification if available
Charge: Ideal range $200+ *Payment is negotiable depending on your resources
Merchandise: Yes, Blair Pathways CDs, Postcards, Blair Mountain Journal etc.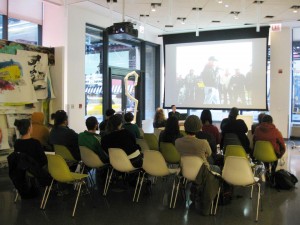 Presenting at the Chicago School of the Arts- May 2013