Émigré Band Looking for 3rd Member
Émigré,a Scottish/Irish folk music band is looking for an instrumentalist!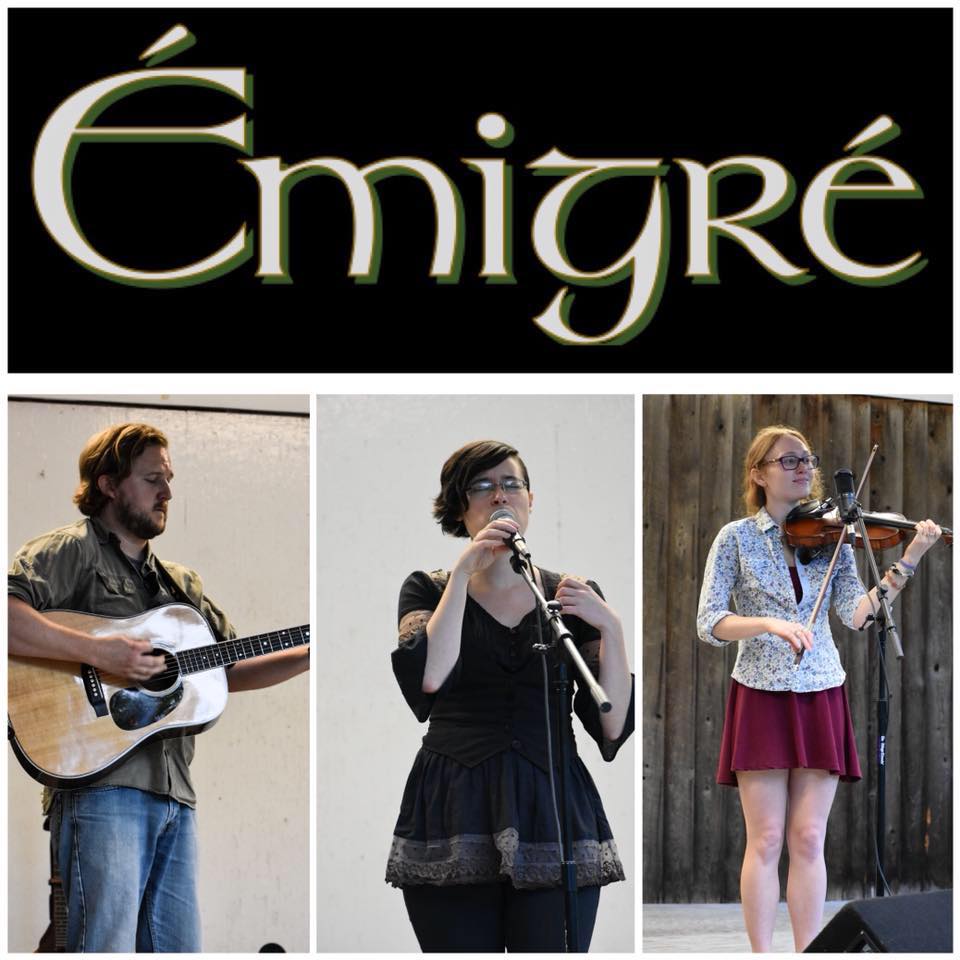 About us: The members of Émigré came together two years ago in Johnson City, Tennessee, to combine their diverse musical talents and experiences with their love for the traditional music of Ireland and Scotland. The band performs a variety of music tracing the diaspora of the Irish and Scots across the ocean to North America. Their repertoire includes ballads and fiddle tunes from Great Britain and Ireland, songs from the French-speaking regions of Canada, and melodies familiar in Appalachia and the North Atlantic alike. The name "Émigré" comes from the dispersal of people, ideas, and music that resulted from centuries of emigration from Ireland and Scotland and the unique music that has resulted as these were combined with others from a world away. The sound of Émigré is characterized by the rich vocal melodies sung in Scots-Gaelic, French, and English, dynamic fiddle playing, and driving guitar accompaniment.
Why are we looking for a new instrumentalist?: Emigre has been together since the fall of 2016 when the members met as graduate students at East Tennessee State University in Johnson City, TN. We have most recently had three band members- Saro Lynch-Thomason- vocalist, Austin Gregory-guitar and bouzouki, and a rotating cast of amazing fiddlers. Saro and Austin are now living back in their respective home towns- Austin in Seneca, SC and Saro in Asheville, NC- and are looking for a permanent third band member who would be available for shows and occasional short tours.
We are looking for someone who is:
A skilled fiddler familiar with Scottish and/or Irish tune repertoires. Quebecois/Canadian/Nova Scotian/and Appalachian tunes are also a plus! We are also open to instrumentalists skilled in the concertina, flute or tin whistle, and accordion. Vocals are also a plus. We have a preference for fiddlers who play 5-string fiddles, since several of our arrangements have been designed for 5-strings. However, playing a four string is not a deal breaker.
Willing to commit the time to practice regularly, rehearse regularly with the full band, and add new tunes and ideas towards the band's repertoire.
Able to plan ahead in their schedule to commit to gigs several months in advance.
Willing to travel for rehearsals. Saro is based out of Ashevile, NC and Austin is based out of Seneca, SC, so rehearsals would likely take place in both locations.
We're interested in a trial period in which we create a few shows together so that everyone can feel out the collaborative dynamics as well as get a better understanding of the time commitment involved.
You can listen to our music here to get a sense of our sound!
If you're interested, please e-mail
[email protected]
along with a short description of your experience as a performer and musician. Please send any available videos or recordings as well. If we are interested we will respond, send more music sampled and set up a phone call to talk further.