Lone Mountain Book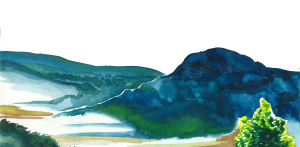 Written and illustrated by Saro, Lone Mountain is an illustrated children's story book created to educate youth about mountaintop removal (MTR) coal mining. Set in central Appalachia, this 32-page book presents beautifully illustrated full color pages that compel and educate youth and adult readers alike. Focusing on Appalachia's rich cultural and natural heritage- from its biodiversity to its clean water, food sources and medicinal plants- Lone Mountain presents a framework for learning about the valuable gifts of the Appalachian Mountains while raising awareness about the threats of mountaintop removal.
The Story of Lone Mountain
Set in central Appalachia, the story is told from the perspective of Lone Mountain, who has a close relationship with the community of people who use the mountain slopes for food, water and medicine. When mountaintop removal threatens to destroy those relationships, mountain people seek to educate others across the country about the ways in which we all benefit from the health of the Appalachian Mountains.

To order a copy, e-mail Saro at [email protected]